Tächa
the cultural bridge to the Lauterbrunnen valley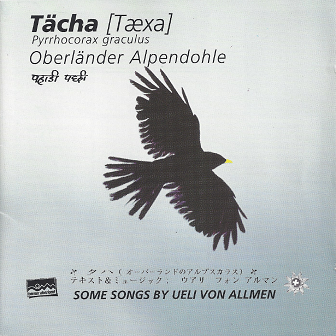 Since 1997 the worldmusic band Tächa has represented the Swiss mountain world around the Lauterbrunnen valley like noone else.
1999 Oecumenic memorial service for the victims of the canyoning tragedy nearby Wilderswil and their families.
There is a spiritual quality in Tächa music. Tächa touch people's hearts awakening deep emotion.
This happened 2001 at an international symposium at the Kursaal Interlaken Switzerland while performing Tächa's Sound & Visual Compositions .
Switzerland was the host and coordinating the UN Year of Mountains 2002.
After their performance Tächa were asked to produce their first official DVD Music and Images from the Swiss Alps and Tächa became cultural ambassadors. At the time dvd players were not yet available for living rooms.
Economy Berner Oberland invited Tächa to produce a cd with a musical journey as a contribution to the UN Year Of Water 2003 - Tächa Wasser
2004 Karlsruhe Germany
2007 Swiss tour Tächa & Eunan McIntyre
2008 Tächa took part in an official journey with performances in Japan and China
2009 Opernhaus Zürich (private party)
2009 Tächa teamed up with Eunan McIntyre in Ireland
2010 Kunsthaus Interlaken
2011/12 Concerts with Rudra from Nepal in Grindelwald Switzerland
2013 Tächa performed at the first gathering UNESCO World Heritage Swiss Alps Jungfrau-Aletsch in the Lauterbrunnen valley.
2015 Tächa's Sound & Visual Compositions Bernexpo GV BEKB | BCBE
2016 7132 Therme - Vals
2017 Tächa 1997 - 2017 Celebration
2018 Live at Goldener Anker Interlaken Switzerland https://www.taecha.ch/de/bild-ton
2019 Concert and founding of the association tächa land festival mürren Kunsthaus Interlaken https://www.uelivonallmen.ch/de/blog/24
2019 Performing in Nepal https://www.uelivonallmen.ch/de/blog/27
2020 Tächa Musik & Bild Kompositionen Tafers FR
2020 membership Verein tächa land festival https://www.uelivonallmen.ch/de/blog/44
2022 A short story of Tächa - 25 years https://www.uelivonallmen.ch/de/blog/69
Among the cultural scene of the Bernese Oberland Tächa is iconic being looked at as a musically independent band playing in an open and humorous style appealing to young and old people. High quality made in Switzerland and a musical landmark of the Swiss Alps.
Ueli von Allmen and Bruno Raemy also perform for the very young, Tächa's concert label for children is known as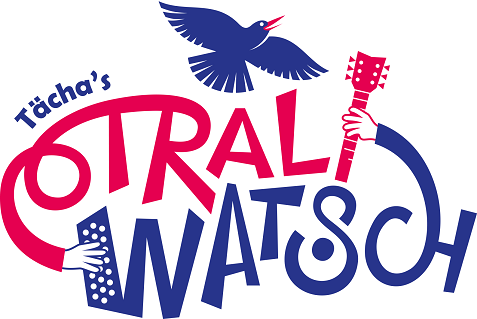 https://www.youtube.com/watch?v=WHGyYre3hRU
Article Berner Oberländer Tächa 25 Years Anniversary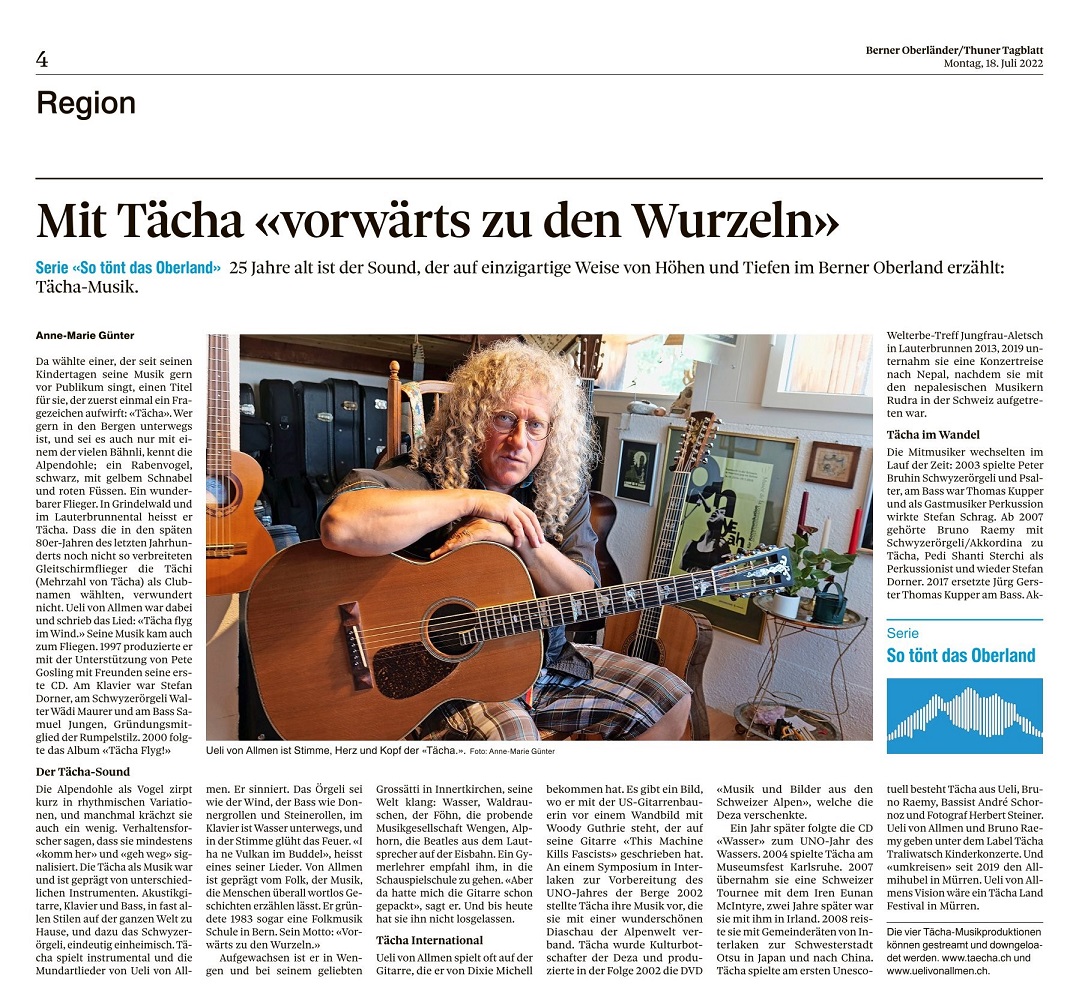 Ueli von Allmen
guitar, vocals, percussion
Bruno Raemy
swiss button accordion, accordina

André Schornoz
double bass

Herbert Steiner
photography, film